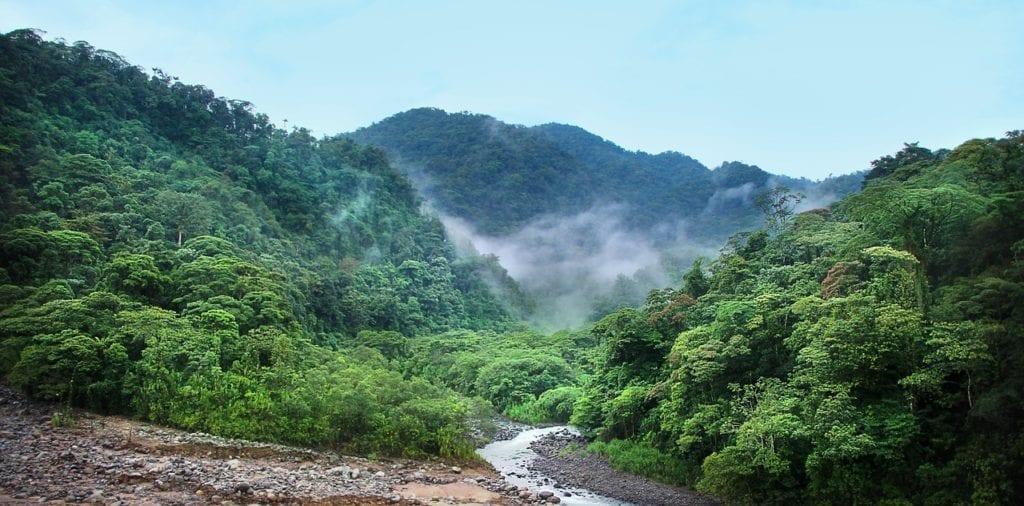 Costa Rica is Spanish for 'the rich coast' and true to the name, this beautiful country in Central America is affluent not only in eco tourism but also in beach resorts. At only 19,560 square miles, the tiny country, whose official language is Spanish, has a lot under its name for tourists to do and explore. It is bordered to the South by Panama and to the North by Nicaragua and boasts of being the most prosperous and stable country among all Latin American countries.
Costa Rica boasts a very diverse selection of bird species not found anywhere else in the world, in actuality, the bird species found in Costa Rica alone cannot match any found in North America and the entire of Europe. With that said, the micro climates and eco systems in Costa Rica are equally diverse in that apart from the coastal beaches, one will find dense jungles as well as rain forests with a very wide gamut of flora and fauna. It is due to the moisture of the mists found on the trees of these forests that some of them are referred to as cloud forests. Ensure you visit the forest that has a cable car set up that provides an aerial view of the flora and fauna of the place.
If you are a dare devil, there is an opportunity for you to swing from one tree to another over a myriad of ropes attached together. As for changes in microclimate, you can be able to tell the difference in as little as 30 minutes of travel in the area. Costa Rica equally boasts of easily accessible volcanoes, some of which have turquoise colored lakes forming over their craters. A must see volcano is the Arenal, a very popular volcano that allows tourists to watch eruptions from a facility in close proximity to it. The facility has a beautiful outdoor hot spring that is heated by the volcano itself.
Away from the eco system, there are numerous sporting activities one can enjoy in Costa Rica, top among them scuba diving. Costa Rica offers a truly unique scuba diving experience unrivaled by that experienced in the Caribbean waters.
Sloths, jaguars, monkeys, reptiles, and birds are few of the exotic wildlife you will come across. What is more, if you are a lover of sea turtles, you will not be disappointed because certain beaches host these beach dwellers during their nesting period. The huge amounts of plankton available in the local waters act as a major attraction to large marine animals.
With that said, Costa Rica is accessible by air through its Capital City San Jose. Be advised that the capital city also has some attractions that might captivate you, such as colonial architecture, but the city might not be very safe for tourists, besides being overcrowded and polluted. However, you can use the city as your base for day trips to the different tourist attractions. Many tourists love to fly into Liberia, a town that borders the city on the northern part, and which is a bit quiet and serene and close to some of the top resorts in the north.
Bottom line, there is a lot waiting to be explored in Costa Rica, reason why many tourists will always go back after their visit as one cannot be able to explore all the treasures in a single trip. Costa Rica has become a popular and favorite tourist destination and has forced the government to set up tourist offices in North America to furnish travelers with enough information about the place.
By: Macon Gravlee