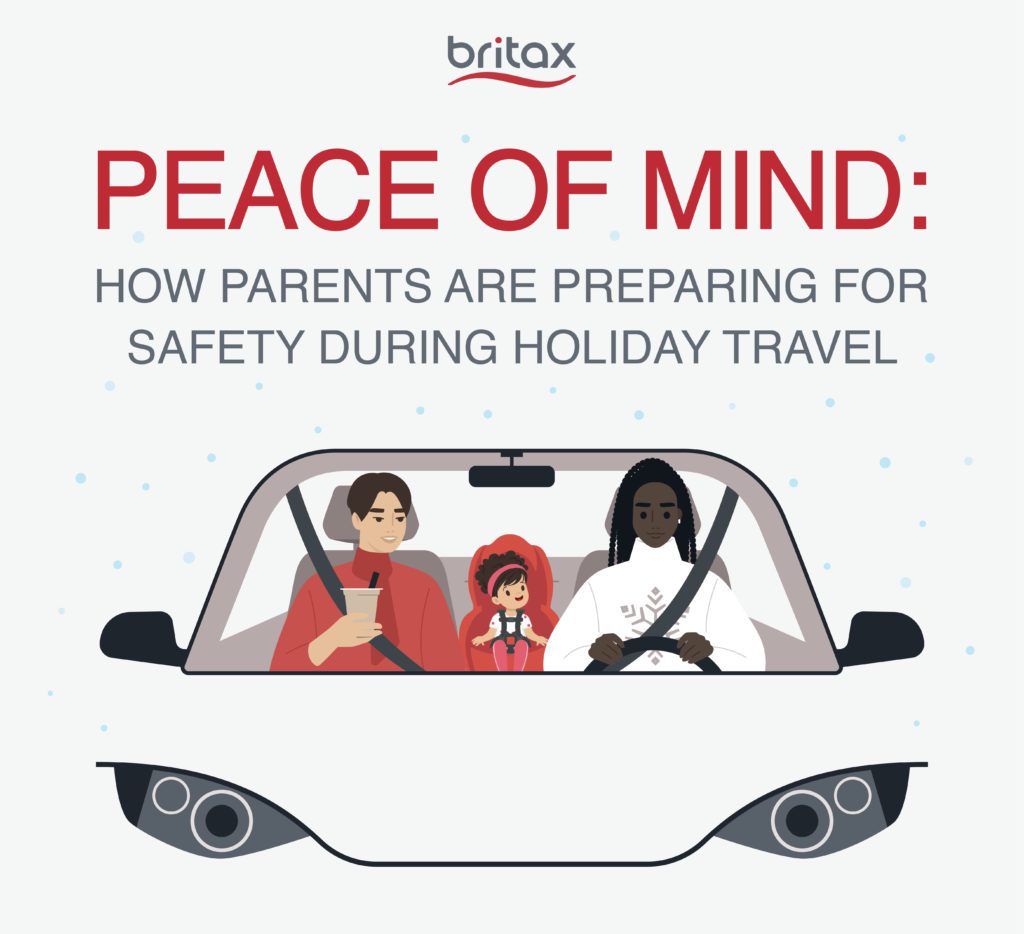 Buckle up: the holiday season is a joyous time for many families — but it's also the most stressful time of year to hit the road with the kids.
A survey of 2,000 American parents of children ages 5 and under found 71% think the holiday season is the most challenging time of year to plan family trips — mainly due to winter weather (54%), increased traffic (51%) and travel costs (51%).
Safety is the top priority for 58% of families when planning a holiday trip, followed by comfort (56%) and convenience (48%).
In fact, 83% of parents prioritize their kids' safety and comfort over their own when they travel, and almost as many (79%) drive slower when traveling with their children. 
Roughly half are also extra cautious during holiday travel. Parents make sure their kids are properly fastened in their car seats or booster seats (56%), are careful when driving through the snow (47%) and ensure they have the right directions (45%). 
Commissioned by Britax Child Safety, Inc. and conducted by OnePoll, the study revealed nearly three-quarters (74%) of families are planning to travel this holiday season.
When traveling with kids, respondents claim cars are the easiest mode of transportation (52%) over airplanes (13%), buses (11%) and trains (10%).
Respondents believe traveling by car allows them to travel whenever they want, on their timeline (65%), have more control over safety (55%) and have more control over comfort (50%).
A properly installed car seat brings peace of mind to 28% of parents who plan to hit the road this holiday season.
"Britax is passionate about helping parents and caregivers keep kids safe on the road," said Sarah Tilton, Britax's director of consumer advocacy and child passenger safety technician-instructor. "Studies have shown that nearly half of all car seats are installed wrong, but a properly installed and correctly used car seat is truly the best way to protect your child in the event of a crash."
Most parents (80%) said they plan every little detail of their family's trip before leaving home. They especially consider factors such as packing extra things for the trip (58%), when to travel for maximum comfort (52%) and checking the car seat installation (47%).
Seventy-two percent of parents believe the holidays are more memorable when it involves traveling with their kids. However, 74% admit where they go as a family now is more different than before having kids.
With kids present, 80% of parents require vacation destinations to be "kid-friendly" — offering special activities for kids (70%), a kid-friendly menu (58%), amusement rides (57%) and high-chair or booster seats (55%).
More than two-thirds of families (69%) prefer to travel to warmer areas during holiday vacations.
Nearly eight in 10 (78%) have their travel distances impacted by winter travel advisories. If it's snowing heavily, families won't travel more than an average of 102 miles, and 12% of families won't travel at all if it starts snowing.
"Safety is our top priority at Britax, and we know it's a priority for parents, too," added Tilton. "Wherever your family may be headed this holiday season, and however you plan to get there, a properly installed and correctly used car seat will allow you to travel with confidence and peace of mind, knowing you've done everything you can to keep your child safe."
WHAT TRIP DETAILS DO PARENTS PLAN IN ADVANCE?
Packing extra things

                                                              

58%
Which snacks to pack in between meals

                              

55%
Where to eat meals

                                                               

54%
Best time of day to travel to maximize kids' comfort

             

52%
Checking car seat installation

                                                

47%
The number of pit-stops along the way

                                 

47%
Having a first aid kit

                                                               

37%
Where to get gas

                                                                   

37%
Having more time before leaving the house

                          

36%
What route to take

                                                            

34%