"Son Bou, Menorca" by Paul Stephenson is licensed under CC BY 2.0
For the health conscious holidaymaker, just because you're off on a beach break abroad doesn't mean you have to completely let your fitness standards slip. Rather than embarking on a no holds barred sloth fest, why not choose somewhere where you can combine the relaxation of a sun drenched holiday by the sea with plenty of activities to keep you not only entertained, but keep you in shape as well. Son Bou holidays are just the ticket for anyone wanting to weave a bit of fitness into their fun break away. With plenty to keep you occupied whether on the beach or off, Son Bou will appeal to both die hard gym junkies and weekend warriors.
Head to the Beach
The obvious place to look for some good, healthy and fun exercise on your Son Bou holidays is the fabulous stretch of beach.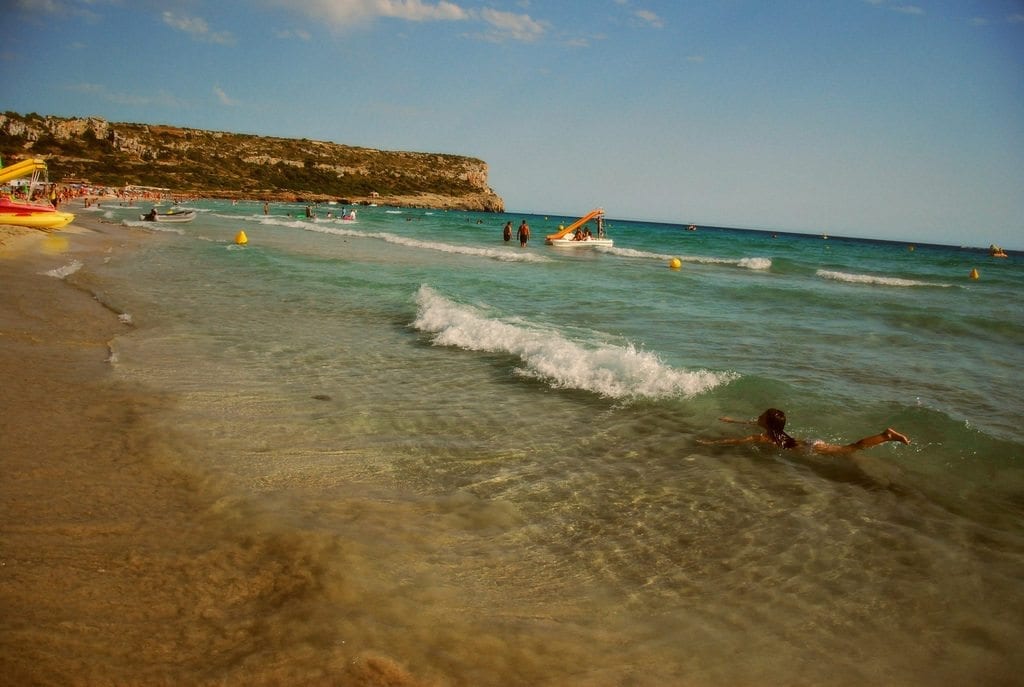 At over two and a half kilometres it can lay claim to being the longest beach on Menorca. Its enticing, wide sandy shores are perfect for an invigorating early morning jog or, even if a brisk walk is more your style, an uninterrupted stroll all the way up to Santo Thomas. As well as the beach itself, there are a plethora of water based activities that will keep you active. Take a pedalo or canoe out for a spin, or for a wilder ride hit the waves on a jet ski. If you can drag enough people away from their sun loungers you can instigate a game of beach volleyball, or if all else fails you can try swimming lengths of the beach!
Slip Sliding Away
If you want to exercise a few different muscles than the usual ones, head for the water slide in the San Jaime resort complex. The slide twists down into the complex's pool and you will be kept busy running to take your turn on the slippery slopes of fun! You're never too old to ride the chute, and it will probably be the most entertaining way you find of keeping fit on your Son Bou holidays.
"Son Bou 2014" by Steve Dawson. is licensed under CC BY-SA 2.0
Horse Riding
If you want to experience some of the stunning landscape around Son Bou, one of the best ways to do it is on horseback. There are a number of good riding schools based not far from Son Bou and, if you hire a guide to go with you on your ride, you will be able to discover some of the more secret locations of the region. With mostly flat terrain, Menorca is an ideal place to explore on horseback, and the many riding and walking paths which traverse the island will take you past some of the best scenery you can experience on Son Bou holidays. A day on horseback will give you a fantastic physical workout, even if your horse IS doing most of the hard work!
Walk the Walk
Son Bou holidays are perfect for those nature loving ramblers who prefer to get around on their own two feet as well. The cliffs, which flank the beach at Son Bou, not only make a picturesque backdrop to the resort, they can also provide a fascinating glimpse into the history of the area. You can wander around the ancient remains of Torre d'en Galmés or marvel at the massive Megaliths the moody, broody relics of the Stone Age. If you're lucky enough to visit in spring, the cliffs of Son Bou come alive with a profusion of delicate, blooming wildflowers which colour the ochre cliffs pastel.
"Son Bou, Menorca" by jf1234 is licensed under CC BY-SA 2.0
Disco Fever
If you have any energy left after your fun filled days in Son Bou, take heart, it's not over yet! Although the resort is very family oriented, Son Bou holidays have plenty of after dark entertainment for the adults as well. You can take it easy and sip cocktails as the sun sets over the beach or, if burning off the calories is more your style than drinking them, head to the fabulous Discoteca Son Bou and boogie away your dinner!
Author Resource:-> Brenda Jaaback is the Managing Director of Bartle Holidays. They can provide you with a wide selection of villas for Son Bou holidays (http://www.bartleholidays.co.uk/index.php?option=com_bartle_resorts&Itemid=223&id=SJ). Bartle Holidays makes no warranty as to the accuracy of this article.
By: Brenda Jaaback