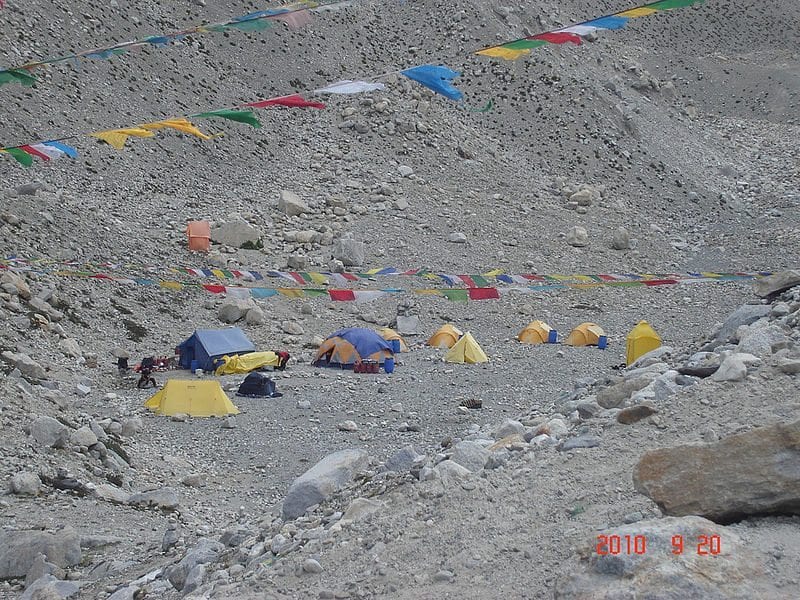 Remarkable things happen around Everest Base Camp. It is more than a staging point for mountaineering expeditions; it is a popular trekking destination, a forum for important global issues, and a place where people test themselves and achieve monumental goals.
The Everest Declaration
On Friday 4th December 2009, the government of Nepal conducted an unusual open air meeting, swapping their traditional cozy boardroom for a high altitude mountain setting. They convened at Kala Pattar, the top of which is a good vantage point to look down upon the neighboring Everest Base Camp (5,360 meters), and a great spot to view Mount Everest (8,848m).
They staged the event on a plateau not far from the location of the world's highest parachute landing that took place in September. Wrapped in warm coats and scarves, and emblazoned with the caption "Save the Himalayas," the cabinet ministers posed for the cameras before conducting their meeting via microphones because of the noisy wind. Their aim was to raise awareness of the damage being done to their country because of global climate change, and to issue their "Everest Declaration" to other world leaders, setting targets for the reduction of greenhouse gases.
The ministers were equipped with breathing apparatus because of the relatively thin oxygen; but this is understandable since, at an altitude of 5,242 meters, they were sitting at more than equivalent to the highest summit in the continent of Oceania, Carstenz Pyramid (4,884m), and almost higher than any mountain in North America. They would have held the meeting at Everest Base Camp itself except they struggled to find a suitable place to arrange a boardroom table and chairs. It was an incongruous scene, with the twenty-four ministers sat around a table with striking, white mountains and a bright blue sky as a backdrop.
Lows and Highs
A declaration of a different kind was made by the German endurance sportsman, Geri Winkler. Several years ago, he defiantly faced the grave diagnosis of having type 1 diabetes by planning a series of extreme sports and long distance journeys that would test the healthiest of people.
His most ambitious journey took him from the lowest place on the planet to the highest.
Beginning at the Dead Sea at an altitude of 422 meters below sea level, he cycled more than 4700 miles via Jordan, Syria, Turkey, Iran, Pakistan, India and Nepal, reaching Everest Base Camp, and going on to successfully summit Everest.
Geri is a man who appears unhindered by a medical condition that needs constant monitoring, and has gone on to achieve the admirable 'Seven Summits' accolade, which means conquering the highest peak in each of the world's seven continents.
No Barriers
If that physical feat and determination seems remarkable, then you should learn the story of former teacher, Erik Weihenmayer. All his life he has been an adventurer, enjoying thrilling adrenaline pursuits such as skiing, paragliding and in particular, mountain climbing.
Like Geri Winkler, Erik is a 'Seven Summits' veteran, and in 2001, he trekked from Everest Base Camp to the summit of the highest peak in the world. All considerable achievements bearing in mind he has been blind since the age of 13. It is not surprising that he now earns his money as a motivational speaker.
Author Resource:-> Jude Limburn Turner is the Marketing Manager for Mountain Kingdoms, an adventure tour company who have run the classic trek to Everest Base Camp (https://www.mountainkingdoms.com/) for over 20 years. They now offer treks and tours to destinations worldwide.
By: Jude Limburn