Grand Canyon is one of the most spectacular places in the world. In 2015, more than 5 million people visited Grand Canyon National Park. Located in Arizona, the Grand Canyon stretches 277 miles from its northern end at Lees Ferry to its southern end at Grand Wash Cliffs. At its widest point, Grand Canyon is 18 miles from rim to rim, with the average width being 10 miles.
Although no one knows for sure how the huge canyon was created, most believe it was a combination of water and wind erosion along with uplifting of the earth. The Colorado River, which snakes its way through the bottom of the canyon caused much of the water erosion, as did countless rainstorms and flash floods. At its deepest, Grand Canyon is 6,000 feet deep and has five of the seven life zones, which is like traveling from Canada to Mexico.
What to See
Visitors to Grand Canyon have two main locations to choose from — the South Rim or the North Rim. While only 10 miles from rim to rim, it's actually a trek to get from one rim to the other.
By car, it's a 220 mile drive from one rim to the other. If you prefer to hike from rim to rim, be sure you're prepared since it's a 21-mile hike. And remember, that when you start your hike, you'll be going downhill, which is the easy part, at the other end of your hike you'll be climbing almost the entire way.
The North Rim is generally less crowded that the South Rim.
If you plan to go to the North Rim you'll only have a few months each year to visit, since it's closed from late October to mid-May because of severe winter weather. The South Rim, meanwhile is open year round.
What to Do
For most visitors to the Grand Canyon, the main activity is looking! The scenery is so spectacular it's hard to not spend time just soaking in the beauty that is Grand Canyon.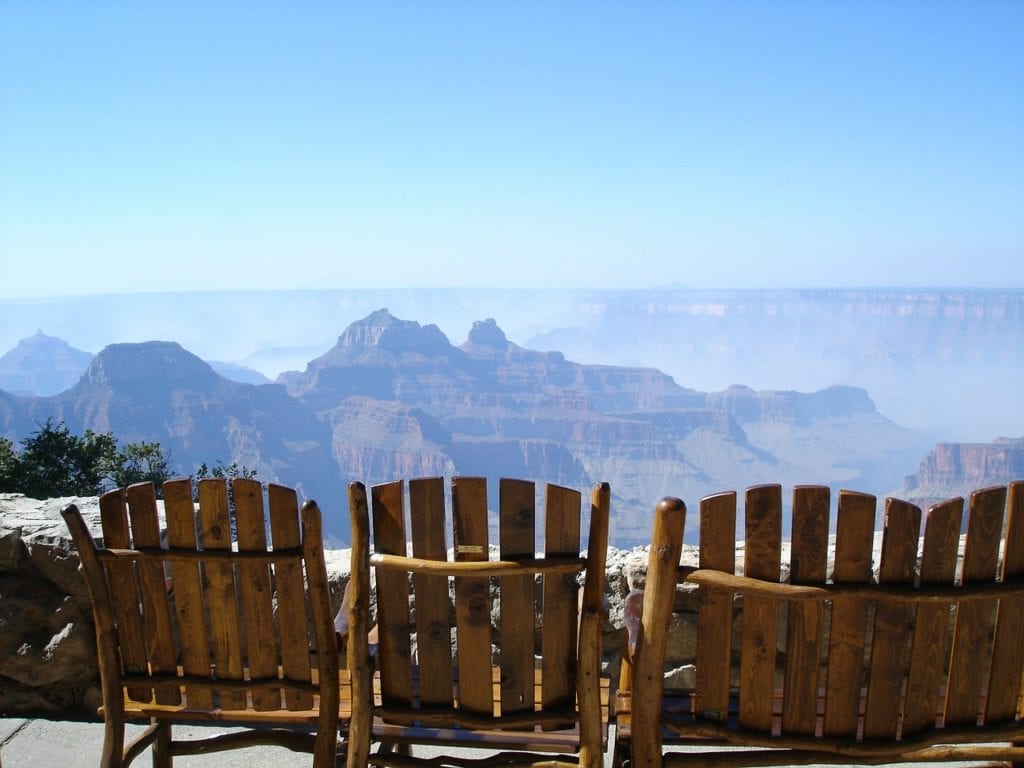 Along with sightseeing, there are plenty of activities depending on your level of fitness and your sense of adventure. Hiking and rafting are among the most popular things to do, but you can also ride mules into the canyon or take a helicopter tour.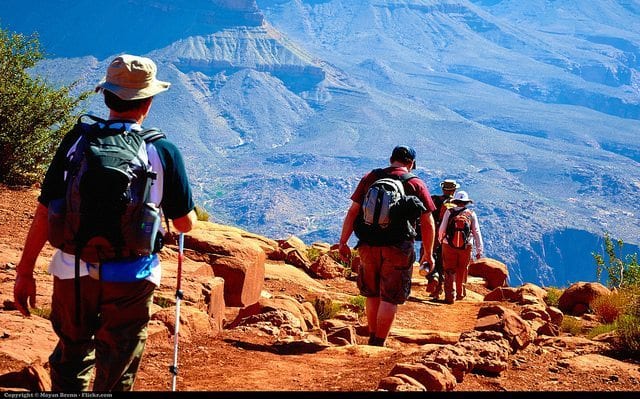 Where to Eat
Within Grand Canyon National Park and outside the park there are a variety of food choices at both the North Rim and the South Rim. Click here for suggestions on where to eat while visiting Grand Canyon.
Where to Stay
If you want to stay inside Grand Canyon National Park, there are South Rim accommodations at the Bright Angel Lodge, El Tovar Hotel, Kachina Lodge, Thunderbird Lodge, Maswik Lodge, and Yavapai Lodge. At the North Rim, the only lodging is at The Grand Canyon Lodge. With all of the accommodations, reservations well in advance of your visit are necessary. To learn more about where to stay at Grand Canyon you'll find information on the National Park Service website.
Outside the park near the South Rim, there are a variety of hotels and motels in Tusayan 7 miles south of Grand Canyon Village.
For those wishing to camp, there are three campgrounds within Grand Canyon National Park — two on the South Rim and one at the North Rim.
If you're brand new to camping, or it's been a while and you need a refresher, check out the Ultimate Beginners Guide to Camping.
How to Get There
If you're headed to the South Rim click here for information from the US National Park Service. For information on getting to the North Rim click here.
Save
Save
Save
Save
Save