84th Annual Donkey Derby Days
Cripple Creek, Colorado
The streets of the historic gold mining town of Cripple Creek were lined with young and old alike, ready to be part of a long-standing tradition, one of the biggest local events, Donkey Derby Days.   My husband Tim and I along with our son, daughter-in-law and grandson decided to check out what all the hoopla was about.
Tim and I love the little town of Cripple Creek, Colorado, nestled at an elevation 9,494 feet above sea level.  Cripple Creek was the site of a huge gold rush in the late 1800's and miners' still pull gold out of a local mine, to this day.  The town is rich with history, quaint shops, an Opera House and museums, even a train, but Tim and I usually spend our time in Cripple Creek at the biggest attraction of all… the many casinos that line the historic Bennett Avenue.
A different kind of weekend
This weekend was different though.   We stayed outside the casinos to soak up the high altitude sun and fresh air and be a part of the 84th Annual Donkey Derby Days, starting with a parade and staying to watch the local donkeys race down Bennett Ave. in the Donkey Derby. The local donkey herd is believed to be distant relatives of the donkeys from the time of the town's gold rush glory.   The donkeys are known to be seen wandering the streets of Cripple Creek any time of year and it's always fun to catch a glimpse of the herd.
The parade was a colorful combination of floats, bands, local folks dressed in the style of the old west, local dignitaries and tributes to our military.  The crowds seemed to love the parade as evidenced by the loud cheers, hoops and hollers.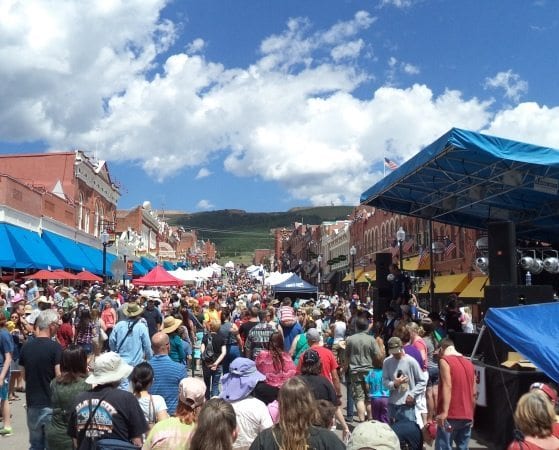 Cripple Creek's main street, Bennett Avenue, was filled with artisans, food vendors, drinks, contests such as the hairiest legs competition and tobacco spitting contest and plenty of people taking in all there is to see and do. Live music kept the Donkey Derby Days celebration rocking into the night.  We all had a good time at Donkey Derby Days and if we are in the area again, next year, plan on making another fun-filled day of it.
Great fall destination
Cripple Creek, in the Pikes Peak region of Colorado, is an outstanding destination in the fall as part of a scenic leaf peeping drive. The golden aspens are just stunning.  During the summer, at 9494 ft., Cripple Creek is a beautiful get-away that can get you off the hot city streets and into cooler mountain air.  Trying your hand at Blackjack, slots or just having a nice meal and taking in the history of the surrounding area is always a lot of fun in the beautiful mountain town of Cripple Creek, Colorado.